About
My name is Riyaz, I have always been passionate about any topics that have the potential to improve the quality of life of people and animals.
I have a BSC (Hons) in Sport & Exercise Science, and an MSc in Health & Exercise Science.
Before I left the traditional system way of life in 2015, I worked for over a number of years in the field of Health and fitness. For 12 years, I was the Exercise and Behaviour Change Specialist for the Care of Childhood Obesity Clinic, based at the Bristol Children's Hospital. In 2010, I set-up my own, not-for-profit, Weight Management Programme, SpecialEx. You can view the old website by clicking here. I was also a personal trainer and tennis coach.
I left the traditional system in 2015, to learn more about low-impact, and more human-centred ways of life (Please see newspaper article). I volunteered around Europe on organic farms, within intentional communities and also animal sanctuaries. I also spent 2 and a half years living off-grid, and self-sufficient, on the Canary Island, El Hierro. For those who are interested in alternative living, I created a presentation: "Living and thinking for a more beautiful world".
Whilst living a slower, more human-centred way of life, within a natural environment, I managed to acquire a lot of invaluable information about how to keep my body and mind as naturally strong as possible.
The foundations of our physical and emotional health have degenerated over the centuries. This is due to many us living within a non-human centred environment. The Gross Domestic Product system of living that many of us are a part of, prioritises economic growth. An example of a human-centered system of living, is Gross National Happiness, as used in Bhutan.
Neither the education, nor healthcare systems have rightfully informed people, consistently throughout any stage of their lives, how to sit, stand or walk correctly.
I would say that, from my observations, 99.999% of all people (including children, due to use of smartphones and tablets as well as using non-ergonomic school bags and hunching over school desks), have a detrimental degree of musculoskeletal malalignment. Furthermore, it is almost impossible to analyse your posture or gait by yourself. In general, GP's and physiotherapists are failing to rightfully inform people of issues with their posture or gait.
Just the very slightest degree of spine malalignment causes:
i) Increased pressure throughout the spinal column, and throughout every joint the body
ii) Improper, inefficient and potentially damaging gait: Walking mechanics involves an extremely complex chain of movement, known as the "kinetic chain". The kinetic chain must be 100% precise at every joint to avoid an accumulative and detrimental, "knock-on effect", throughout the rest of the chain.
For example, if the curvature in the cervical spine (upper back) is just 10 degrees maligned from it's natural and correct position, this could result in more than a 50% movement reduction at the ball and socket joints (hip and shoulder). This is detrimental to the whole body for a number of reasons, including:
1) Increased physical load and exertion, due a compensatory need to use muscular effort rather than natural momentum, ground reaction force and elastic energy
2) Reduced flexibility due to impaired range of motion
3) Degeneration of natural strength and capabilities of the entire neuromuscular and musculoskeletal systems, due to not recruiting/insufficient recruitment of ALL the correct and necessary muscle groups and corresponding motor neurons
4) Pressure on the spine resulting from poor posture, creates excess pressure through every other joint in the body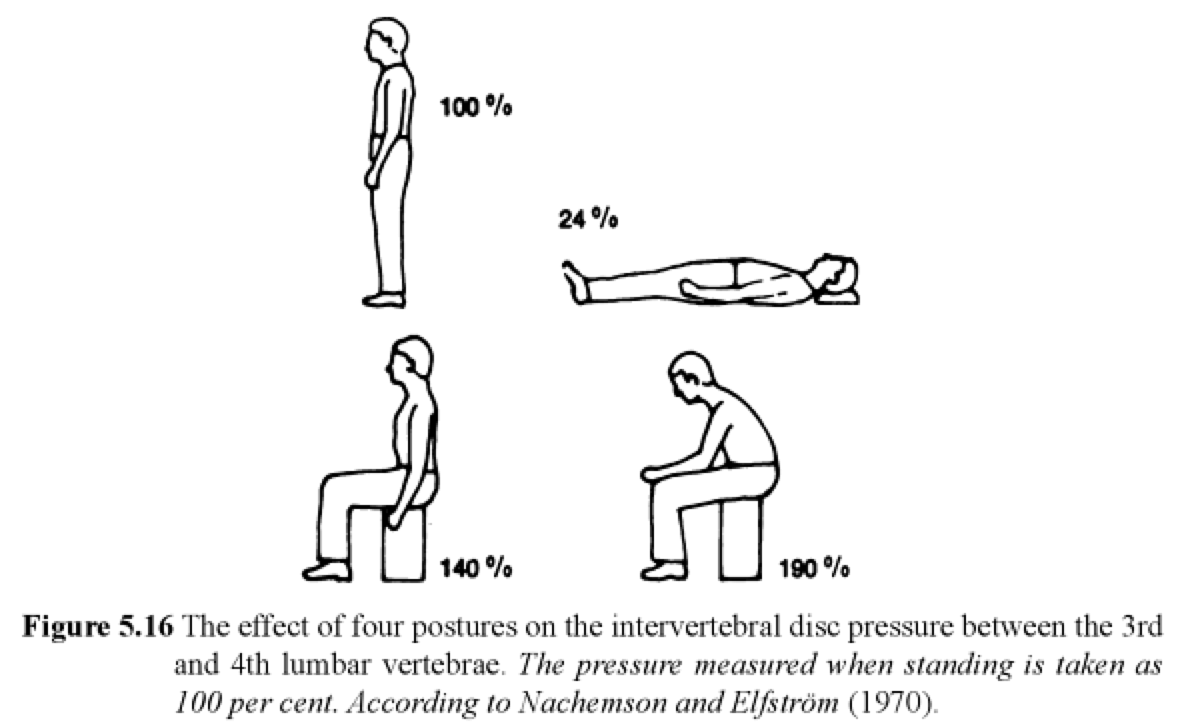 Every primary school. secondary school, college and university should:
i) Inform their pupils how to sit, stand and walk correctly
ii) Hold a minimum of quarterly, posture and gait analysis, for every child and young adult
The healthcare system should:
i) Ensure that Doctor's and physiotherapist inform patients if they notice any issues with their posture or gait
ii) Organise regular "pop-up" posture and gait analysis centre's around the country
Implementing these simple preventative measures would:
i) Improve the quality of life for all by helping to ensure people have great health throughout their lives
ii) Potentially reduce the need for people to use walking aids
iii) Potentially reduce (and certainly delay) the likelihood of a person requiring a wheelchair due to "age-related" health degeneration
iv) Counter the detrimental effects of altered epigenetics, such as loss of core strength, from centuries of living in a non-human centred environment
v) Save the NHS trillions in neck, back hip, knee, ankle and shoulder treatments/operations/related issues
Below is the UK road sign for "elderly people". The picture shows two people with ankylosing spondylitis (AS) and kyphosis. Conditions such as these are not a natural phenomenon at any stage in a humans' life.
IF YOU, OR ANYONE YOU KNOW USES A WALKING STICK, PLEASE USE ENSURE THAT YOU/THEY USE TWO (ONE IN EACH HAND) HEIGHT ADJUSTABLE WALKING STICK WITH VERTICAL GRIP  TO PROMOTE BETTER POSTURE, EVEN WEIGHT DISTRIBUTION AND ALSO TO ENSURE THE PALM FACES INWARDS RATHER THAN DOWNWARDS TO ENSURE A STRONGER AND MORE EFFICIENT ARM POSITION (SEE PHOTOS BELOW AND PLEASE RESEARCH PRODUCTS YOURSELF- I AM NOT AFFILATED TO ANY COMPANIES WHATSOEVER)
IF YOU, OR ANYONE YOU KNOW USES A MOBILITY WALKER THEN PLEASE CONSIDER USING AN UPRIGHT, HEIGHT ADJUSTBALE WALKER (Please research products yourself- I AM NOT AFFILATED TO ANY COMPANIES WHATSOEVER)
Conditions such as Kyphosis and Ankylosing Spondylitis are a systematic failure, please read this report entitled "Meet the work colleague of the future", as well as the articles related to posture on the "Further Reading and Resources" page.
Whilst living on El Hierro, I met a lady over 100 years of age (pictured below), who has been self-sufficient all of her life. When I met her in 2016, she still cultivated her own food (including planting and digging out potatoes), as well as carrying large bails of hay and animal feed from her house, uphill, to the small farm where she kept goats and chickens.
Our sedentary lifestyles, as well as the day-to-day emotional and physical (and psychosomatic) stresses we encounter (which have been created by, and living in, a non-human centred system), are degenerating both our physical, and emotional health.
I would recommend that everyone reading this, asks their Doctor or physiotherapist, the following:
Do I have kyphosis of the spine?
If yes (and you have previously visited your Doctor or physiotherapist with any joint or muscle issues), please ask – why have you not informed me previously?
If no, do I have any issues with my posture or gait that I need to address now, to avoid possible degeneration?
I recently met a lady who has been suffering with Ankylosing Spondylitis (AS) for many years. She had visited her Doctor many times with back pain but the AS was never identified and was only ever prescribed painkillers. She only recently learned that she has AS after speaking to a massage therapist. On questioning her Doctor as to why he never informed her, he just brushed it off. This lady now faces the prospect of being wheelchair bound and potentially not being able to the the one thing she loves, which is to walk with her dog. She also faces the potential side-effect of long-term use of pain killers (and sleeping tablets and anti-depressants), which not only includes addiction to the tablets, but also motor neuron degeneration due to the nerve and neurotransmitter altering mechanism of such tablets.
"Doctors and patients need good scientific evidence to make informed decisions. But companies run trials on their own drugs, which distort and exaggerate the results . Unflattering data is simply buried. Government regulators withhold vitally important information. Seemingly independent doctor and patient groups are funded by the industry, in a world so cracked that medics and nurses are now educated by the drugs industry. The results of all this are inevitable: patients are harmed , unnecessarily , in huge numbers." Dr Ben Goldacre, Author of Bad Pharma
The kyphosis treatment recommended by the NHS for teenagers is as follows (and extremely dangerous in my opinion):
"Bracing
Teenagers with mild to moderate kyphosis may need to wear a back brace. The brace is worn while the bones are still growing and prevents the curve getting worse.
Wearing a brace may feel restrictive at first. However, most people get used to them after a while. Modern braces are designed to be convenient, so it should still be possible to take part in a wide range of physical activities.
You'll need to wear the brace until the spine stops growing, which is usually around 14 or 15 years old.
Bracing isn't usually recommended for adults who have stopped growing because it won't correct the position of the spine."
The strength and stability of any structure, be it a house, a tree or the human body, must come from the ground-upwards. The NHS advice to "treat" kyphosis in teenagers by using a brace to hold the shoulders back in order to create a permanent skeletal position, is not only dangerous and detrimental to the entire body, but it is also purely symptomatic and cosmetic.
The use of a back brace forcibly pulls the scapula back into an dangerous, unnatural position causing hyperextension of the anterior deltoid muscles, and malalignment of the entire body. This will lead to continual degeneration of the musculoskeletal and neuromuscular systems.
The root of the majority of postural related issues is non/insufficient engagement of the core muscles, and incorrect sitting, standing and movement biomechanics.